Improved UI Controls For Mobile Applications In Upcoming 2.3 Release
PLEASE NOTE: As soon as we update the Component with new features every new week the information might be outdated, please check our latest news.
Our clients have a chance to use mobile version of web Pivot Table & Charts component for a long time. There is no news that Flexmonster pivot is a cross-platform component and allows clients to process massive amounts of data as good as a standalone desktop solution. Depending on a device controls adaptively render reports and ensure the usability of the Pivot Component.
More and more our clients develop mobile apps using Flexmonster Component and we've decided to follow this necessity and significantly improved the mobile UI of the Pivot.
So what will be the difference
In 2.3 release we decided to focus on improving the usability of mobile interface refining some UI controls. Let's review all changes in details:
The handy

Toolbar

with bigger buttons. We've done the convenient redesign of toolbar controls that improved the usability of the Component on mobile devices. Also there is some layout changes that makes the design more responsive:
The extended full screen panel for

Field List

. With new 2.3 version you will be able to add required fields and rearrange them just easily dragging the fields between areas.
The extended view for

Filter

. The new pop-up view allows you to manage dimensions easily. All controls optimized to work seamlessly with touch input.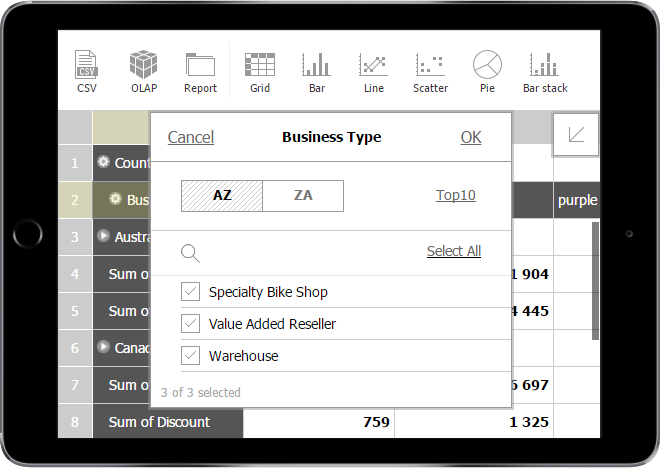 The

extended full screen panel for

Calculated values

. The new touch friendly design allows to operate with a set of functions easily.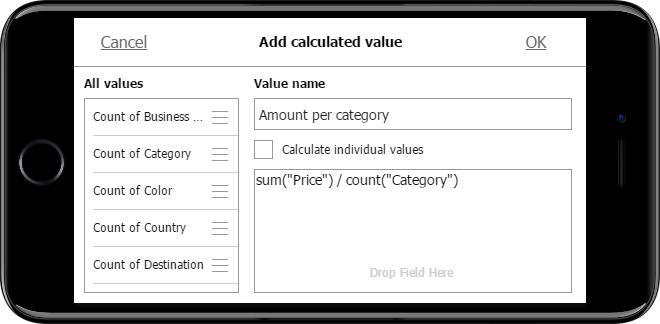 We are sure that easy navigation will considerably enhance end-users experience while working with mobile reporting and will fully satisfy all customers' needs.
So follow for further updates and don't miss the major 2.3 release date!